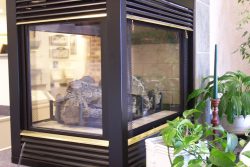 When it's chilly outside, it feels cozy to huddle around your home's fireplace glass or wood-burning stove in New Hope, MN. But the high temperatures these comforting elements can provide can be too hot for some types of glass. This is why fireplaces and stoves use specially made glass depending on the type of fireplace or stove and how hot they get.
At Custom Glass & Screen, we can help you determine what type of glass is best for you. We care about you and want to keep you safe. We won't ever advise you to cut corners by replacing your stove or fireplace glass with anything but the correct type of glass that can withstand the extremely high temperatures that even the least hot fireplaces produce.
Types of Fireplace and Stove Glass
There are several types of heat-resistant glass. Some we can cut to custom fit your stove or fireplace glass here in New Hope, Plymouth, Maple Grove, Minneapolis, and Saint Paul, MN. Others can't be custom cut and only come pre-cut. Here at Custom Glass & Screen, we have a stock of fireplace replacement glass that includes:
Tempered Fireplace Glass

Tempered glass is suitable for use in fireplace doors only. It's the most common type of glass used because it is inexpensive to produce in quantity. It can't be cut or drilled so it's manufactured to size and not custom cut. Its maximum thermal shock rating is 400F degrees.

Pyrex and other Borosilicates

Borosilicates like Pyrex aren't as strong as tempered glass. It's used mostly in gas stoves and can be custom cut to fit. Polished pyrex is more expensive than rolled pyrex, but has a smoother texture. Pyrex has a thermal shock rating of 500F degrees.

Ceramic Glass

Also known as Pyroceram, this slightly amber tint ceramic glass is the perfect replacement glass for stoves and fireplaces. We can custom cut ceramic glass to fit any fireplace or stove and at a thermal shock rating of 1380F degrees, it can handle any fire.
No matter what type of stove or fireplace you have in your home, Custom Glass & Screen can help you fit the correct type of replacement glass for your fireplace, shower door, or other custom-cut glass product that can stand the heat. If your fireplace doors shattered, contact us today.