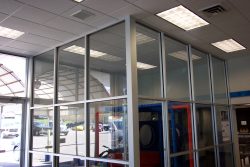 At Custom Glass & Screen, we maintain an extensive inventory of glass types ready to cut for your project and receive daily deliveries from suppliers and manufacturers of items, not in stock and those that must be factory-made so we will always have the exact glass product you need right away.
We stock all material types, including:
Window and picture glass
Float or plate glass from 3/32″ to 1/2″
Patterned and frosted glass
Laminated safety glass
Mirror, acrylic and polycarbonate sheet
Pyrex and ceramic fireplace and stove glass
Common Residential Custom Glass Projects
There's almost no limit to the types of projects custom glass can enhance inside your home. If you're not sure, our friendly staff can help advise you on the best type of glass for your specific project or piece of furniture. Custom glass products work well in things like:
Tabletops and desktops

Protect your furniture from fingerprints, spills, and scratches or replace broken glass with a new precisely-cut glass top. We stock plate glass in several thicknesses and tints and can cut almost any size or shape.

Shelves

Replace your old wood shelves with glass in cabinets or displays for a bright, clean look or put an empty wall or corner of your home to use. Glass allows dramatic lighting options to showcase your collectibles.

Cabinets

Dress up your new cabinets and display cases with glass doors or refurbish your outdated cabinet door glass with new panels in clear, tinted, obscure or decorative patterns.
Custom Doors

We also build easy-to-install sliding door assemblies and hinged doors to finish any project.

China cabinets and antique furniture

Bent glass works perfectly in vintage furniture and hutches. At Custom Glass & Screen we're happy to special order best glass or any other special glass type for you.

Railings

For a modern, open appearance consider glass instead of balusters or spindles for the railings on your stairway, balcony or deck.
As you can see, glass is a beautiful and sparkling substitute for many elements in your home, including metal and wood interior details such as banisters and railings, and furniture items like shelves and bookcases.
Whatever you're renovating, call Custom Glass & Screen today to learn more about all the ways custom glass can enhance any residential project.