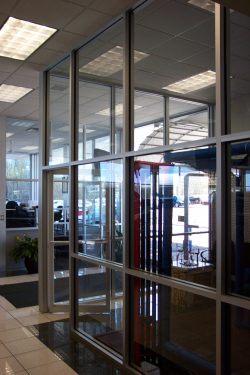 In addition to our custom cut glass and commercial glass services, Custom Glass & Screen also cuts glass for a variety of window and glass doors for your office building or other business here in the greater Minneapolis, MN area. There's no end to the types commercial window services we can provide you. No matter how big or small your business or complex is, we can help with either new windows or window repairs.
Commercial Window Installation – New or Replacement
Install new heavy-duty, high-performance window systems at your place of business or replace inefficient or worn-out windows. New energy-efficient windows cut heating and cooling costs and give your building a fresh new look. Available in either fixed or operating configurations, they come in the standard commercial anodized finishes or a wide range of paint colors which we can pair with a variety of glass options to meet your design and energy requirements.
New windows can change the aesthetics of the entire building without expensive structural modifications—with the added benefits of improved energy efficiency and interior comfort.
Window Repair
Whether a window has failed due to the ravages of time or less-desirable patrons, we can replace an insulating unit or single glazing using your existing frame. A broken or cracked window is not only a safety hazard and potential liability but may leave customers with a poor impression of your business.