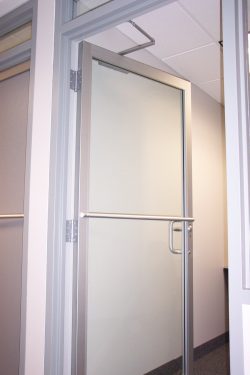 Here at Custom Glass & Screen, we have handled storefront glass repair where a New Hope, MN customer has evidently taken 'Drive-In' literally. Whether you just need damaged or broken glass replaced, or an entire storefront installed, we can supply the materials to fit your design and energy specifications.
Doors, Storefronts, and Entries
We have a wide range of Storefront glass and related cut glass services for all types of businesses here in New Hope, Plymouth, Maple Grove, Minneapolis, and Saint Paul, MN. The skilled technicians at Custom Glass & Screen can take on any project you might have. We can perform new, repair, or replacement storefront glass services using only the best commercial glass products available.
Insulating Glass and Thermal Break Framing in New Hope, MN
Buildings, old and new, can benefit from the energy savings of low-emissivity insulating glass units and thermal-break framing.
We maintain a large stock of materials and parts by Oldcastle BuildingEnvelope™ (Vistawall) and CMI Architectural Products (CTS)—two of the most eminent suppliers of fenestration products in North America—for fast design and assembly of window, door, entrance and storefront systems to fit virtually any building.
These products are the finest available and engineered for years of dependable service even under the demands of high-traffic areas, such as schools and retail businesses. Heavy-duty thermal break aluminum extrusions and durable anodized or fluoropolymer resin paint finishes ensure a long, corrosion-free life.
Aluminum Storefronts
A client's first impression of your business is the facade. Our aluminum storefront system lends a clean, professional appearance to your business. Whether you have an outdated, single-glazed storefront or a brand-new building, we can design and install a system that will match the image your company or organization exemplifies.
If you're looking for storefront glass, office glass, or heavy equipment glass here in New Hope, MN, contact us today.